Nicole Gnadt, RMT
Nicole's long-time interest in the field of health services led her to follow the path of Massage Therapy, where she feels that it's a great way to show her care and attention to the personal wellness of others.  Graduating from the extensive program at Okanagan Valley College of Massage Therapy in Vernon, Nicole has been provided with the necessary hands-on practical experience to treat a variety of conditions. New and existing patients can expect to receive due care with a high attention to detail for effective personalized treatment with pre and post assessment, manual treatment, and home care. To further her wellness and ability to treat patients effectively, Nicole likes to keep active by running, weightlifting, and especially hiking in the beautiful Okanagan in her spare time.  Originally from South Africa, Nicole loves to travel back to visit with family and friends, and experience the sights and sounds of her past.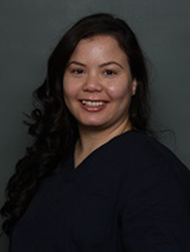 Massage Therapy
Registered Massage Therapists (RMTs) are trained in treatment and prevention of soft tissue injuries through assessment and manipulation of tendons, ligaments, fascia, skin, muscles, nerves, and joints.  Applied massage pressure may range from light stroking to deep pressure, depending on a patient's comfort and need.
At Mickelson Chiropractic, the RMTs are experienced in a variety of massages  that cater to individual needs through pre/post assessments with additional recommendations for out-of-the-office therapeutic exercises.
Massage Techniques
Swedish Massage – This is a gentle form of massage that uses long strokes, kneading, and deep circular movements, noted as the "queen of all strokes."
Deep Tissue Massage – This massage technique uses slower and deeper strokes, to target the deeper layers of muscle and connective tissue.  Perfect for people who would like deeper work and especially athletes!
Sports Massage – This is geared towards people involved in sport activities to help prevent or treat sports injuries, where the massage technique can be as gentle as a light Swedish Massage for delayed onset muscle soreness or deeper for targeting tight and knotted muscles.
Trigger Point Massage – Pressure is placed on hyperirritable spots known as tight muscle fibers (knots) that can form in muscles after injuries or overuse.  After pressure is applied to the knot, the therapist will wait for a slow and gentle release of the muscle fibers; the client will also notice a decrease in tenderness within that muscle fiber after the release.
Myofascial Release – A fascia is the band of tissue that connects muscles and other internal organs, beneath the skin.  This massage technique involves the stretching of fascia where bonds are broken between fascia, muscles, and bones. This is a dry technique so it requires no oil and is considered very superficial.
Prenatal Massage – Perfect for the mother-to-be! It helps reduce: muscle tension/pain, water retention, fatigue, stress and sciatic nerve. Helps to increases circulation and tissue health.
We can also include: Relaxation Massage, Manual Lymph Drainage, Muscle Energy techniques, and Friction massage.
Benefits and Treatable Conditions with Massage Therapy
Massage Therapists can provide the following benefits:
Reduce muscle tension and stiffness
Improve overall wellness
Make exercising easier
Increase the health of skin
Increase circulation of blood and movement of lymph
Provide greater flexibility and range of motion
Reduce stress-related insomnia
Decrease excessive scar tissue due to soft tissue strains or injuries
In addition, a variety of conditions can be treated:
Anxiety
Digestive disorders
Fibromyalgia
Whiplash
Pregnancy
Cancer
Headaches
Myofascial pain syndrome
Sports injuries
Low Back Pain
Tendonitis
Arthritis
Osteoporosis
Temporomandibular joint pain
Migraine headaches
Post-operative care
Preparation for a Massage
Here are some tips to follow to be prepared for a massage:
Arrive 15 minutes early to fill out your health form; this is vital information we need before treatment can begin.
Drink a lot of water regularly.  Health authorities commonly recommend eight 8-ounce glasses, which equals about 2 liters a day; it also helps to flush toxins out that are released from the muscles after a massage.
Take a warm hot shower before arriving, this will help loosen up those tight muscles and even decrease some of the muscle tenderness prior to massage.
Don't forget to do your homecare as it helps with strengthening, flexibility, mobility and a decrease in tenderness after the massage.
MASSAGE HOURS
Monday 9am-7pm

Tuesday 2pm-7pm

Wednesday 9am-7pm
Thursday 2pm-7pm
Friday 9am-5pm
Select Saturdays 9am-1pm